You would have used them in your kitchen, shower, refrigerator, or walls to save space and to provide instant storage solutions. Yes, it's the vacuum
You would have used them in your kitchen, shower, refrigerator, or walls to save space and to provide instant storage solutions. Yes, it's the vacuum suction cups that we're talking about, the handy products that suck. Erm, that didn't come out the way it was intended.
In fact, these products are cool and highly useful for a wide range of applications. They "suck" only in the literal sense. In fact you may be surprised about the number of innovative ways this clever little devices are used
Here, in today's article, you can find a list of innovative ways to use suction cups in a number of different environments, for a number of different tasks.
Before, we dig in, here's a quick refresher on what a suction cup is and how it works.
What is a Suction Cup?
Also known as a sucker, in short, it's a tool that uses the negative air pressure to adhere to non-porous surfaces, thereby forming a partial vacuum. The suction cups in use today, mimic animals like squids and octopuses that have naturally occurring suction cups that help them climb on slick surfaces like rocks.
Top Modern Uses for Suction Cups:
Fitting new Windows
Glass is a fragile and often sharp material. It can also be slippy when wet. Professional window installers will only ever use a robust handheld lifting device to carry out their work. Many of these even have a built-in vacuum loss indicator, to minimize the chance of the glass falling and breaking.
112KG Sure Grip Handheld Suction Cup with Case, A3002
Windscreen Glass Replacement
Glass lifters have evolved to carry out all sorts of important tasks safely and efficiently including the replacement of car windscreens. These specialist glass lifters independently swivel to match the design of the windscreen and have been designed to lift curved glass surfaces.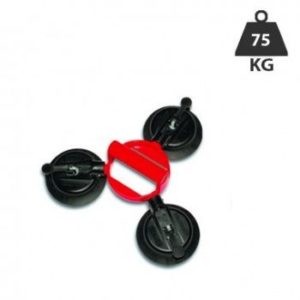 Veribor 75kg Autoglass Vacuum Cup for Windscreen
Window Cleaning and Maintenance
Some building can only be cleaned by rope access trained window cleaners. These guys will use glass handheld suction devices with quick releases to stabilize themselves and help them carry out their work to a high quality.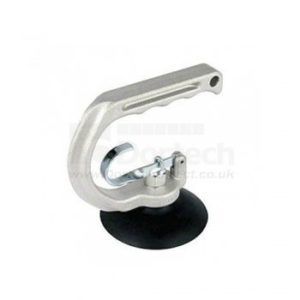 Quick Release Slap On Suction Cup
Filmsets – Attaching Cameras to Moving Vehicles
Ever wondered how movie directors manage to get those exciting shots during action sequences? Well, glass suckers are also used to attach expensive video equipment to moving vehicles in order to capture images that would simply be too dangerous to capture by hand.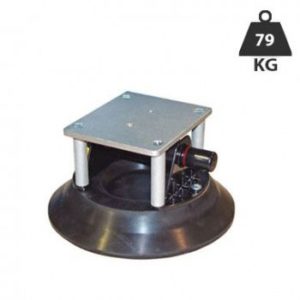 Woods 79kg Powr Grip Vacuum Cup with Mounting Plate
SatNav and Other Windscreen Attachments
Some people use glass suckers to temporarily attach lights, radios and navigation systems onto boats, trucks, aircraft and all-terrain vehicles.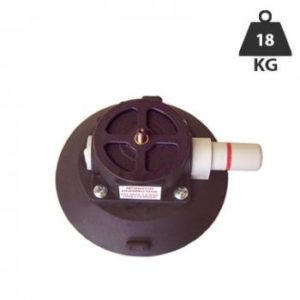 Woods 18kg Powr-Grip Mountable Vacuum Cup
Production Lines
It's often quite difficult to pick up flat materials, particularly when they're lying on top of each other. To solve this problem, nearly every production line now uses rubber suckers to lift and move flat materials from one place to another. Even manual production lines are starting to see these little devices more and more, which help people safely and easily move materials.
Wall Hangers in Bathrooms and Bedrooms
Simple and easy to use. These clever glass suckers mean that you can avoid having to drill temporary holes into walls that can often be expensive to repair.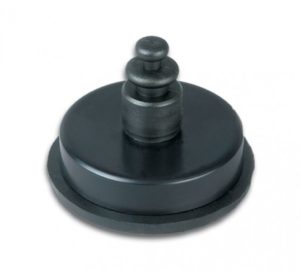 Making Aquariums
Now you know how fish tanks can be held together whilst being made! This effective adjustable suction device will hold two pieces of glass together in time for the silicone seal to set and become watertight. Of course if you decide to attempt to make a fish tank, make sure you use aquarium safe silicone!
Lifting Large, Heavy Objects
Large objects, such as granite work surfaces, fridges and office furniture can be a nightmare to move and often require several people and several bumps on the way! These hand held suction lifters can lift weight of up to 125Kg, which understandably most people would not even want to attempt and we would certainly not recommend you trying at home!
Glass Suckers and Glass Suction Pads
The Bottom Line
Though small in size and simple in operation, suction cups are indeed one of the best tools ever invented. With just a bit of planning, you can organize any space, with a few of these. What more, since they are inexpensive and non-intrusive, they help you save tons of money in the process.