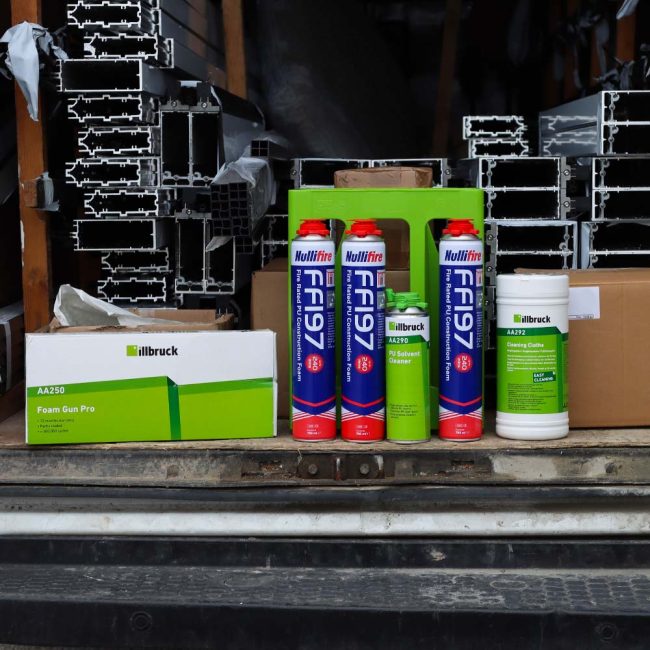 You understand the value of top-notch materials and tools as a builder, architect, DIY enthusiast, or owner of a home improvement business. The Nullifire PU Foam Kit is one product that stands out from the competition when it comes to insulation and sealing. We will discuss this product's characteristics and the reasons it is essential for your construction projects in this blog post.
What is the PU Foam Kit from Nullifire?
The Nullifire PU Foam Kit is a complete solution made especially for insulation and sealing applications. It comes with foam, cleaner, a gun, and wipes. This high-quality kit is ideal for a variety of tasks, from little fixes to substantial construction projects.
Key Selling points:
1. Superior Insulation: The Nullifire PU Foam Kit has exceptional insulation qualities that effectively stop air leakage, lower heat loss, and increase energy efficiency. With this foam package, you can guarantee optimal thermal insulation whether you are working on residential, commercial, or industrial projects.
2. Versatile Sealing Solution: This foam kit's excellent sealing characteristics make it the perfect choice for plugging holes, fractures, and gaps. It spreads out to fit unusual forms and sticks to a variety of surfaces, including wood, metal, concrete, and more. A seamless, airtight seal that is resistant to moisture, draughts, and noise is the end product.
3. Simple to Use and Clean: The Nullifire PU Foam Kit includes a high-quality pistol that enables accurate application and simple control of foam flow. The foam itself dries rapidly and after it has fully hardened, it can be painted, sanded, or otherwise modified. The kit also comes with a cleaner and wipes to make cleaning the gun and its surroundings simple and effective.
| Technical Performance | Information |
| --- | --- |
| Foam Density | 20 kg/m³ |
| Thermal Conductivity | 0.036 W/m·K |
| Expansion Rate | 40 times |
| Tack-Free Time | 7 minutes |
| Cutting Time | 20 minutes |
| Full Cure Time | 24 hours |
| Max Temperature Resistance | 90°C |
| Fire Rating | B2 |
Why Dortech Direct Ltd is the Best Place to Buy the Nullifire PU Foam Kit:
1. Significant Industry Experience: For many years, Dortech Direct Ltd. has been a dependable provider of tools and supplies for the construction industry. We understand the particular requirements and difficulties faced by builders, architects, and do-it-yourselfers thanks to our significant industry experience, and we only provide the best materials.
2. Dependable Customer Service: Our committed customer service team is committed to provide our customers outstanding support. Our experienced and helpful staff is always here to help, whether you need assistance with your purchase, have questions regarding the product, or need after-sales support.
3. Affordable Prices and Quick Delivery: At Dortech Direct Ltd, we work hard to provide affordable prices without sacrificing quality. Furthermore, our speedy delivery service makes sure that you get your Nullifire PU Foam Kit on time, enabling you to get started on your projects right away.
Don't pass up the chance to improve the effectiveness, robustness, and general calibre of your projects. Investigate the Nullifire PU Foam Kit right now by going to the Dortech Direct Ltd website. Dortech Direct Ltd is the ideal place to purchase this outstanding product because of our broad industry knowledge, dependable customer service, affordable pricing, and quick shipping.
Consider purchasing the Nullifire PU Foam Kit and see the difference it can make in your building projects. Air leakage, ineffective insulation, and faulty sealing are no more. Utilise this superb option to elevate your tasks. To maximise the possibilities of your construction projects, order your kit right away.
Never forget that Dortech Direct Ltd.'s Nullifire PU Foam Kit is the best option for insulation and sealing. Don't wait any longer; use this excellent tool to revolutionise your construction tasks.
Get this kit now: https://www.dortechdirect.co.uk/ff197-nullifire-pu-foam-kit-foams-cleaner-gun-wipes.html
#NullifirePUFoamKit #ConstructionSupplies #Builders #DIYers #HomeImprovement #Insulation #Sealing #ExpansionFoam