Repair works are typically required within a timely manner in all construction environments, whether indoors or outdoors. If you're involved in construction, roofing, or building maintenance, it's more than likely that you will need to conduct some type of repair work sooner or later. But the most necessary and hard-to-do repair works are those that have to be done underwater or those done in damp locations, such as in and around running water.
Some repair works, such as with those with bridges, pavements, gutters and tiles roofs will require urgent attention and the resulting damage caused by water ingress can be extremely costly. Examples include; leaking roofs, cladding defects, cracks in dams, damaged water canals, cracks in gutters and joints in a bridge.
A specialist, robust sealant that can be applied in wet conditions to alleviate unwanted leaks will clearly provide immediate relief to anyone carrying out these repairs, in addition to anyone affected by the leak. After over 20 years of development, Shell Tixophalte provides the solution! No matter how large or small is the project, Shell Tixophalte Wet Seal and fix is always a great choice. Its reliability is unquestionable.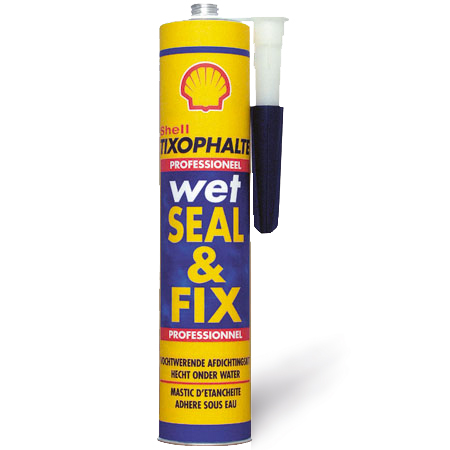 What is Shell Tixophalte Wet Sealant?
Shell Tixophaltewet Sealant is supplied in a handy 310ml cartridge that is compatible with most sealant application devices.
This product can be directly applied to both dry and wet surfaces and there's no requirement to prepare the substrate or to heat it. Its ready-to-use feature makes its use an easy thing.
It's applicable on any surface in the temperature range of +5 to +40 degree Celsius.
Depending on load conditions it is stable at -35 to +110 degree Celsius.
Its excellent flow resistance feature makes it easy-to-use even in the flowing water and protects it against rust and humidity.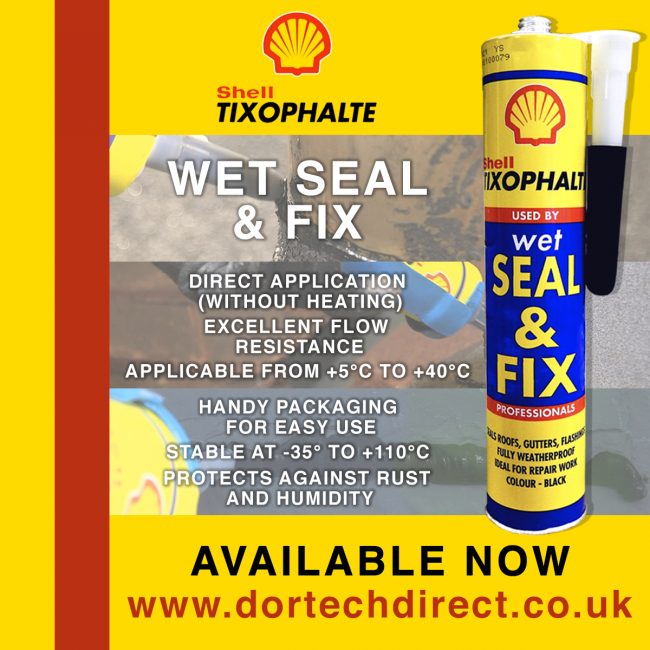 What are the Benefits of Shell Tixophalte Wet Sealant?
This product contains key chemical ingredients that work to actively repel water!
Shell Tixophalte Wet Sealant is a non-toxic professional sealant which is a ready-to-use bituminous compound.
It can be used in wet conditions and can also be applied underwater. So, you need not to stress anymore about the underwater repair works.
Shell Tixophaltewet Sealant has been developed from over 20 years of innovation and experience in bitumen technology. This translates in the durability and effectiveness of this product.
It creates the right flow characteristics and effectively provides adhesion to merge surfaces.
Whether you need to fix a crack in a gutter or fix roof tiles in the rain or even seal a joint in a bridge. No problem, hell Tixophalte Wet Sealant is an ideal solution for all of these repair works.
It's easy to apply and ready-to-use so, there's no need to prepare the substrate.
It can be used in a multitude of applications.
Its performance has been proven over many years, providing waterproofing and joint sealing on projects from dams and water canals to roofing asphalt pavements and bridge decks.
It has been specially formulated to be flexible, durable and to stick all the materials whether they're wet or dry.
It's non-toxic and approved to use in contact with drinking water.
It has been designed to protect against damp, UV rays, rust, and corrosion.