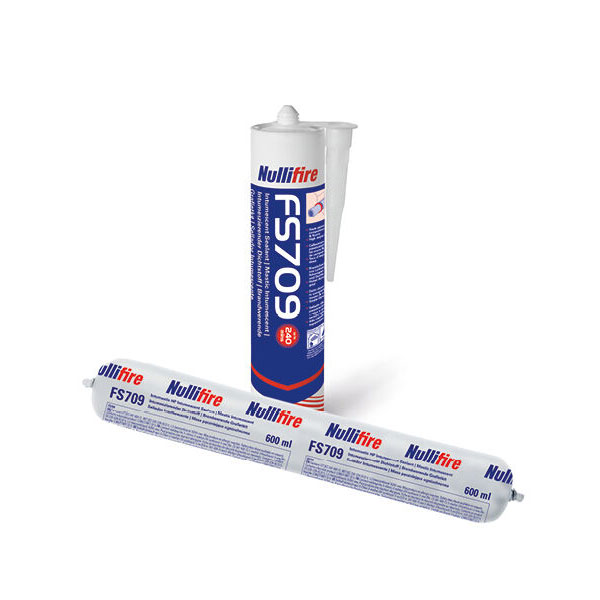 Fire protection is a crucial factor to take into account while making sure your building projects are safe and compliant. With its remarkable fire resistance characteristics and simplicity of use, Nullifire FS709 Intumescent Sealant is a market leader. We will examine the characteristics, advantages, and uses of Nullifire FS709 Intumescent Sealant in this extensive guide, emphasising why it is the preferred option for experts in the field.
1. Understanding Nullifire FS709 Intumescent Sealant
A premium-grade, fire-rated sealant called Nullifire FS709 Intumescent Sealant is intended to offer passive fire protection in joints and gaps. It is exceptionally fire resistant and is made to the highest standards, preventing the spread of flames, smoke, and dangerous fumes. This sealant ensures peace of mind and adherence to fire safety rules by placing a high emphasis on safety and performance.
2. Unmatched Fire Protection Properties
The remarkable fire protection capabilities of Nullifire FS709 Intumescent Sealant make it a worthwhile addition to any building project. Because of its intumescent composition, the sealant will expand when heated, forming a dense fire-resistant barrier. The passage of fire, smoke, and hazardous vapours is impeded by this expansion's efficient sealing of cracks and seams.
3. Versatile Applications
Nullifire FS709 Intumescent Sealant can be employed in a variety of applications thanks to its adaptability. It works especially well to seal joints and openings in fire-rated walls, doors, floors, and ceilings. It can also be used on a variety of substrates, such as concrete, masonry, steel, and wood. Due to its versatility, it is a great option for a variety of construction projects, including both residential and commercial structures.
4. Easy Application and Time Efficiency
The simple application procedure of Nullifire FS709 Intumescent Sealant is one of its best qualities. The sealant may be applied with ease using a regular caulking gun because to its smooth consistency and outstanding adhesion capabilities. This simplicity of usage assures a consistent and expert finish while also saving building sites important time.
5. Long-lasting Performance
Any building material must be durable, and Nullifire FS709 Intumescent Sealant excels in this area. Its lifespan and dependability in fire protection applications have been guaranteed by extensive testing to ensure that it complies with industry standards. The sealant will continue to operate over time and offer reliable fire protection for many years because of its resilience to weathering, ageing, and UV exposure.
6. Compliance with Fire Safety Regulations
The intumescent sealant Nullifire FS709 is designed to adhere to the strictest fire safety standards. It has passed rigorous testing and complies with all applicable international standards, such as EN 13501-2 and EN 1366-4. By selecting this sealant for your building projects, you can make sure that you follow all relevant fire safety guidelines, protecting property and occupants.
7. Cost-effectiveness and Value
Purchasing Nullifire FS709 Intumescent Sealant is a wise financial decision. In the event of a fire, its enhanced fire defence qualities may prevent fatalities and reduce property damage. It increases the likelihood of fire containment and buys crucial time for escape by stopping the spread of flames and smoke. In the end, the expense of putting this quality sealer is a negligible trade-off for the increased safety and decreased danger it offers. The top-tier fire-rated sealant Nullifire FS709 Intumescent Sealant offers unrivalled fire protection and peace of mind. Professionals in the construction business now favour it because of its remarkable fire resistant qualities and simplicity of use. This intumescent sealant offers unsurpassed performance and dependability whether you are working on residential or commercial projects.
Get yours and more now at https://www.dortechdirect.co.uk/nullifire-fs709-intumescent-sealant-310ml.html