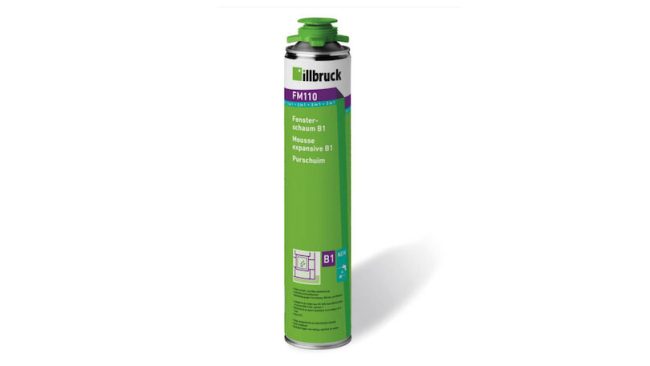 Illbruck FM110 B1 Fire Window Foam is a high-quality, specialist foam that is designed for use in the installation of fire-resistant windows. This foam is B1 rated, meaning that it has a low flame spread and low smoke emission making it ideal for use in buildings where fire safety is a concern. It is an expanding foam that is easy to apply and sets quickly, forming a strong, durable bond that provides excellent insulation and soundproofing.
One of the key benefits of Illbruck FM110 B1 Fire Window Foam is its versatility. It can be used on a wide range of different materials, including wood, metal and concrete, making it ideal for use in a variety of construction projects. It is also suitable for use in both new builds and retrofit projects making it a flexible solution for any building requirements.
Another advantage of this foam is its low expansion rate, which allows for greater control during application. This makes it easy to use even in tight spaces, ensuring that it can be applied precisely where it is needed. The foam is also water resistant, making it ideal for use in external applications, and it has a low odour and low toxicity making it safe to use in any indoor environment.
To use Illbruck FM110 B1 Fire Window Foam, you will need to prepare your surface by cleaning it thoroughly and removing any dirt or debris. It is then a simple matter of cutting the nozzle of the foam can to the required size and applying the foam to the surface, ensuring that it is evenly spread and filling any gaps or voids as required. The foam sets quickly, so it is important to work quickly and efficiently to ensure that you get the best results.
In addition to its versatility and ease of use, Illbruck FM110 B1 Fire Window Foam is also highly cost-effective. This makes it an ideal solution for those on a budget, as it provides an affordable way to achieve fire resistance and insulation in your building projects with its excellent performance, durability, and low cost. Illbruck FM110 B1 Fire Window Foam is the perfect choice for anyone looking to improve fire safety and energy efficiency.
To buy Illbruck FM110 B1 Fire Window Foam, visit the Dortech Direct website at https://www.dortechdirect.co.uk/tremco-illbruck-b1-window-foam-pre-buy-stock-available-mid-late-feb.html
This website provides a comprehensive range of specialist construction materials. Including silicone sealants, membranes, lifting tools, tapes and expanding foam, all of which are available at competitive prices. With a focus on high quality, excellent customer service and fast delivery. Dortech Direct is the perfect place to buy all of your construction materials needs.