Wi-Fi lightbulbs are one of the best investments you could make for your home or office this year. Keep reading to discover ten reasons why you should buy smart bulbs and upgrade your lighting over the upcoming months.
Reduce Your Electricity Usage
When looking at the best LED lights in the UK, you'll notice that they are much more energy-efficient than incandescent bulbs. You'll use less electricity each day but still enjoy the same light levels for your work or family life.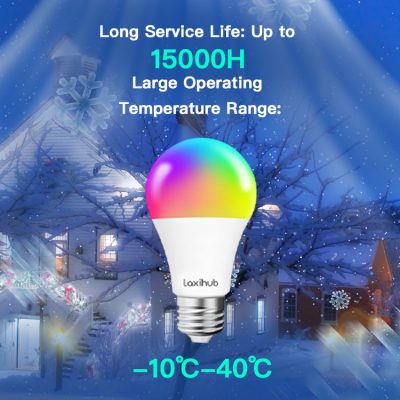 Longer Life Span
The best smart bulbs in the UK won't need replacing as often as typical light bulbs. It can be so frustrating when your lights go off constantly, disrupting your work or activities at the most inconvenient of times.
Increased Home Security
Wi-Fi light bulbs can be used both inside and outside of your home. As they don't need replacing so often, you'll enjoy improved lighting and security when you buy smart bulbs.
Quick and Easy to Set Up
None of us have the time of day to spend hours setting up the best smart bulbs in the UK. The good news is that Wi-Fi light bulbs are quick and simple to set up, so you'll be able to enjoy this efficient lighting solution in no time at all.
Control Your Lights from Anywhere
Wi-Fi lightbulbs can be controlled from anywhere and at any time. You don't need a hub to use them, and you'll just use the app that comes with the best LED lights UK to control them.
Use Alongside a Voice Control Assistant
If you are using a voice control assistant to control various aspects of your home, you can also enjoy using this when you buy smart bulbs. This means you could be sitting on your sofa or bed, and you'll be able to switch on your lights without lifting a finger.
Full Light Customisation
As well as the more practical benefits of using the best LED lights UK, you'll find that you can enjoy more customisation when you use these lights. You don't have to stick to bright white lights and can instead opt for a colourful addition to your home.
Save Money
When you can control your lights from anywhere, you'll find that it's easier to switch the best smart bulbs UK off when they are not in use. From there, you'll notice the energy and money savings within just a few weeks of using Wi-Fi lightbulbs.
An Affordable Lighting Solution
With all of the benefits we've shared above, you might think that Wi-Fi lightbulbs would cost the earth. When you buy smart bulbs, you'll notice they are very cost-effective, meaning they are an affordable luxury to add to your home.
Smart Timer Mode
The best smart bulbs UK offer a smart timer mode, which you can set up with a specified time to light up your home. This means you can wake up to a soft light each morning, helping you to get up and ready for the day ahead with no delays.
As you can see, there are so many benefits of using Wi-Fi lightbulbs in your home or office. For your chance to test out smart bulbs for yourself, we are offering a free light bulb when you buy three or more cameras from our site. Check out our full range of smart bulbs and the other products on offer on our site for more information and to discover the options available to you today.