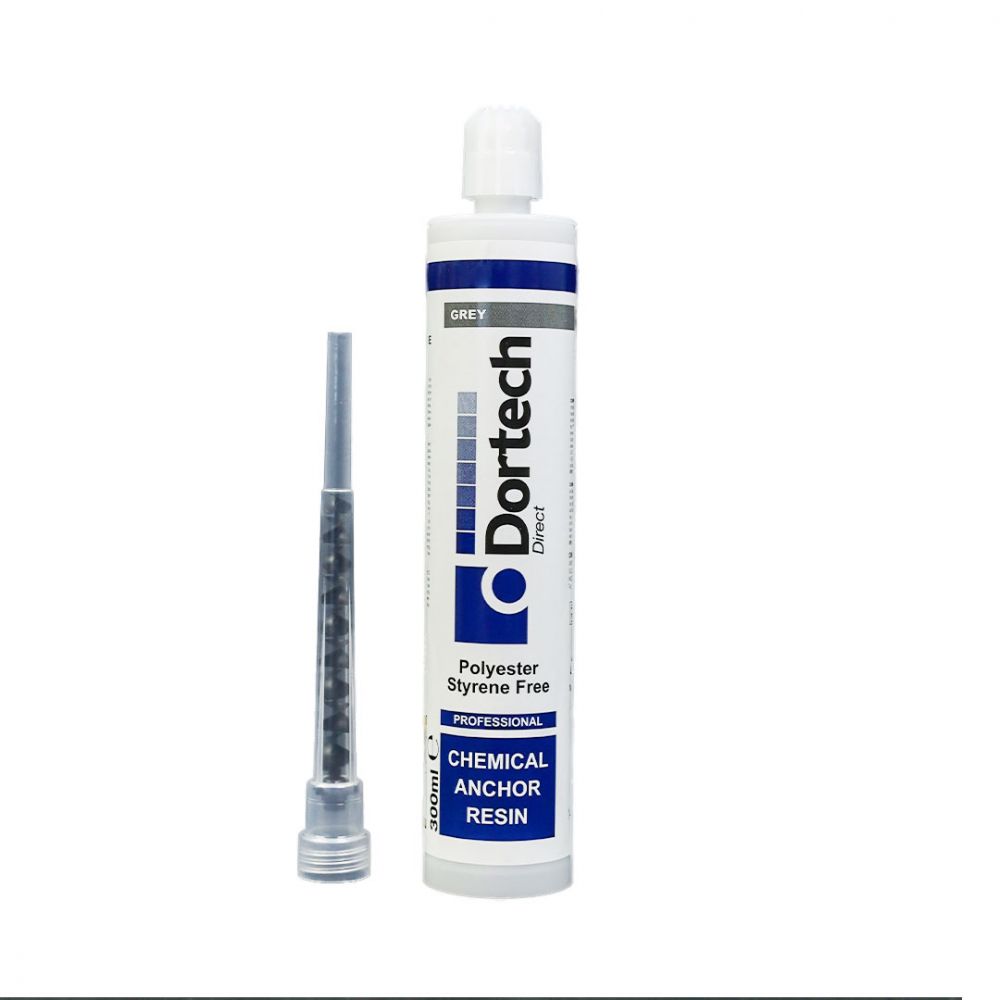 Here at Dortech Direct, we are excited to add our new Chemical Anchor Resin to our ever-growing range of products. This new resin will be sold alongside our glass cleaning spray, PVCu cleaning spray and handheld glass lifting devices, offering you all of the tools you need in order to get any job done quickly and effectively. Keep reading to discover what the Dortech Chemical Anchor Resin is and the top uses for this product.
Introducing the Dortech Chemical Anchor Resin – Available in 300ml or Bulk Size Boxes
Our new Chemical Anchor Resin is a high-performance resin that comes in either 300ml or bulk size boxes. It's designed to be used with our injection system, helping to bond studs, sockets, and fixings into concrete and masonry substrates. The formulation is derived from polyester resin with high body strength. Our two-component chemical anchoring injection system can be widely used for medium loads in both horizontal and vertical applications. We primarily developed this addition to our range of products at Dortech Direct to anchor threaded rods into concrete and for masonry and hollow wall installations.

When Bond Strength Matters, Dortech Chemical Anchor Resin Delivers Superior Performance
There are many benefits of using our Chemical Anchor Resin over other products on the market today. The high bond strength and fast working time help you to complete your projects efficiently, allowing you to move onto your other work as quickly as possible. It can be used in both dry and wet conditions, making it an extremely versatile product.
Our Chemical Anchor Resin is designed for use with threaded rods, rebars, and other bolts and fixings in concrete, masonry, and stone. You could also use it as a filler for gaps and cracks, which it will mask to create a smooth finish. We have received European approval for its use in concrete ETAG001 Option 7, showcasing the high quality of the resin.
Fast Setting Times and Excellent Bond Strength
The main thing you'll notice when you use this product over other options you might currently rely on are the fast setting time and excellent bond strength. With all of the applications we shared above and a formulation derived from polyester resin with high body strength, you'll find that it will get any job done in no time at all.
We are excited to launch the new Dortech Chemical Anchor Resin onto the market. Our innovative product offers superior adhesion for all types of construction applications. This new addition to our ever-expanding range of products is one that we believe will assist many companies and individuals in completing a job that can sometimes feel impossible to find the perfect product for. Check out our store today to try the Dortech Chemical Anchor Resin for yourself. Our team will be on hand at any point to answer any questions you have about using our resin or any of the other products in our range, so don't hesitate to get in touch with us today.