It seems people are a lot more aware of where their money is going these days. When it comes to budgeting, it doesn't hurt to look after the pennies. That's even more so true when it comes to your energy bills. With the cost to run your home at an all-time high, we know it's important to think of innovative ways to reduce the cost of heating your home. One such way, is the installation of draught proofing your home.
Draught proofing is the one of the more effective ways to save energy, and results in reducing condensation and damp in your home. This is achieved by blocking up any unwanted gaps in your home. The result of draught proofing, is to save the volume of warm air in your home, which ultimately will save you money on energy costs.
So where are draughts generally located?
your windows
your doors
around loft hatches
around electrical fittings
in between floorboards
surrounding external pipework
all celling to wall joints
areas that contain an open fire or open flumes
rooms that carry a lot of moisture
Other common areas for draughts to prevail include cracks in your walls, old disused extractor fans, chimneys and fireplaces, even in floorboards and skirting boards!
There are some steps you can take however, to ensure that these are not causing you problems, and unnecessary hikes in your energy bills.
You could for example draught proof your loft hatch. As we all know, heat rises, so your loft should be regarded high in your priority of insulation, with foam strips commonly used. Loft insulation alone could potentially save you a staggering £140 a year.
Another recommendation would be to check your pipework is draught proofed appropriately. It's common for silicone filler to be used for the smaller gaps, where the more challenging ones may require a substance such as expanding polyurethane foam.
There are a range of materials that can be used to insulate your home, the majority of which last the lifetime of the home they insulate, these include fibre glass, wool, cellulose, or even spray foam. Given that the materials sustain no damage, they'll never really have to be replaced.
Draught proofing itself can save you around £25 a year, with the cut in heating bills also making an even more significant saving. It's estimated that turning your thermostat down by just one degree can save you a fantastic £85-£95 a year approximately.
Draught proofing is something that can be undertaken at home, if you fancy yourself as a bit of a DIY expert. Most products you require to complete the work yourself, should well be available from most good DIY stores. But why take the risk?
We can give you a helping hand to ensure that your draught proofing is installed professionally with the industry leading materials.
Whether it be a residential or commercial property, the installation of insulation is the most cost-effective way to reduce the impact of energy use, reduce emissions, and even save yourself some money in the process.
At Dortech Direct, we're here to give you the tools you need for your draught proofing needs. Our supplies are sourced from the leading manufacturers on the market.
One such example is Tremco Illbruck, who are one of Europe's largest service provider of high performance insulation materials.  Whether it be bonding, flooring, waterproofing or even fire protection products, we ensure that you'll be getting the industry standard materials for the job
An example of such being our range of Compriband TP600 Tape.Coming to you in a range of sizes, there's an option for whatever your need will be. This is a joint sealing tape designed for use in a range of movement joints, which include window perimeter seals amongst other applications.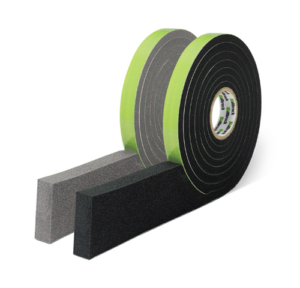 It's weather tight and will withstand the most severe cases of wind and rain. It carries a full BBA approval, and the product has been extensively tested and carries a full BBA approval. It satisfies the majority of expectations as an external weather seal in building and civil engineering applications.