Dortech Doors
MANUFACTURED IN YORKSHIRE
SMART SOLUTION FOR YOUR HOME
ENHANCED HOME DOOR
Dortech Doors, Bringing Doors and Technology Together!
Our enhanced home door has been created from over 25 years' manufacturing expertise and the production of many thousands of doors. Utilising thermally broken aluminium profiles, our enhanced home door not only stands the test of time, but looks just as good many years from now, to the day it was installed.
Your front door says something about you; your identity, your individuality. The first thing your friends and neighbours see when they visit and the lasting impression when they leave. When you walk through your home door, you leave your troubles on the doorstep. Your door keeps your close-ones safe and the bad weather out. Your door is an investment; something that separates you from the crowd and enhances your property.
We've worked tirelessly on the look and feel of this door to set is apart from anything else available in the market. Every element of this door has been selected and developed to ensure only the very highest levels of quality are incorporated. Products that not only look good, but function effortlessly and reliably. Even down to the solid, secure sound the door makes when you close it. Quality lives in every element of this door!
The concept originated in Yorkshire with design options that enable you to express your individuality:
The Otley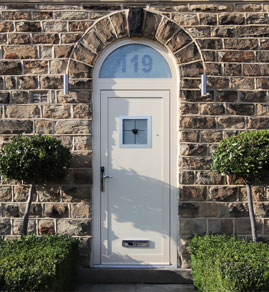 A fresh, conservative design that gives its owner a sense of pride and security, with a vision area designed at a height to allow natural daylight into your property but restrict prying eyes.
Our Malton Door: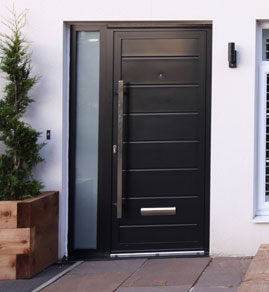 Warm, contemporary and robust. A door designed for those wanting to stand out from the crowd and have maximum security and privacy.
Harrogate: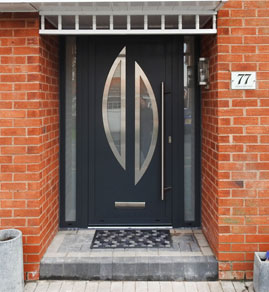 A glitzy, aspirational design, the envy of passers-by, that wouldn't look out of place on a Beverley Hills Mansion, or St Tropez promenade. Comprising of two offset glazed half-moons, treated with stainless-steel perimeters.,
The Linton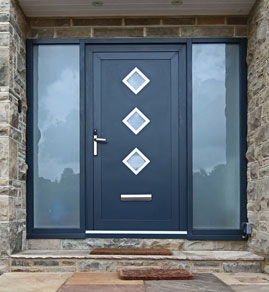 A bold design that differentiates it's owner from other neighbouring properties and stands head and shoulders above the rest in terms of quality, aesthetics.